Interbrian provided interpreting services and simultaneous interpreting equipment for the Indian Motorcycle event. Organised by Egimotors and Polaris, the event took place on 9 November 2017 at the Polaris Showroom in Carate Brianza, Italy.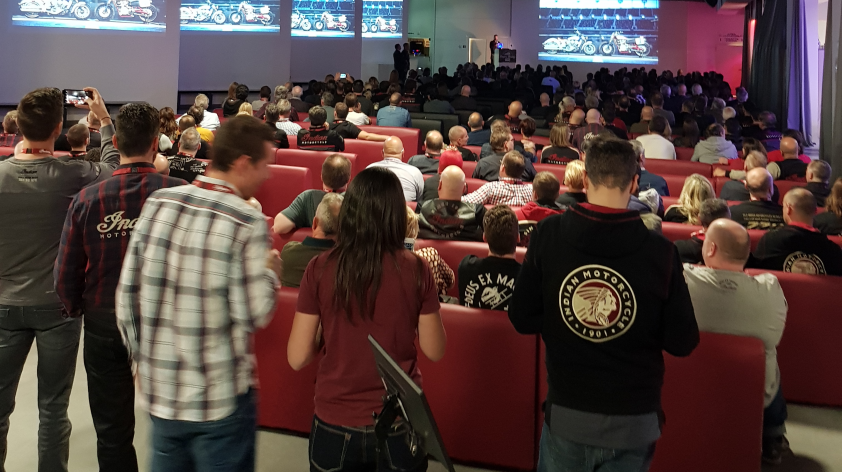 The main language of the Indian Dealer Meeting 2017-EMEA was English. But thanks to Interbrian's team of 8 interpreters, the 300 guests could enjoy the talks in Italian, French, German and Spanish.
Simultaneous interpreting
When you're organising an event with a large audience who don't speak the same language, you might worry you're in for a bumpy ride. You might worry whether your attendees will be able to take part and enjoy the day.
Simultaneous interpreting is the ideal solution for these types of events. Two interpreters work together in soundproof booths. They listen to the speakers via headphones and translate immediately into a microphone. Audience members can listen to the translations through an earpiece in their preferred language as they watch.
When we knew the languages of the talks, we put our pedal to the metal and worked out which language combinations the event would need. We then worked out how many interpreters we'd need, according to their passive and active languages.
If you want your event to be a success, you shouldn't neglect the technical equipment. The specific equipment will depend on your needs and location. So that our technicians could recommend the best solutions, we made an on-site visit before the event.
Simultaneous interpreting equipment
We supplied four professional standard booths. Mobile booths can be easily dismantled, moved, and then installed in rooms which don't have permanent booths. You can then position them so the interpreters have a clear view of the speakers and screens.
We also installed technical equipment. A digital mixer which managed the audio, wireless microphones, and receivers were just the ticket. Our supportive technicians were on hand to provide assistance before, during, and after the event. They also installed, dismantled, and transported the booths and equipment.
We're proud that we helped the event's attendees make the most of this multilingual event. And we're pleased that Egimotors chose us for this project.
This is what the client had to say:
I would like to take the opportunity to thank you for the wonderful work you carried out, your valuable collaboration and all the advice you gave us. Personally, I can say that I have learned a lot from this experience, after having seen the work of your interpreters, the effort they put into it, and the professionalism that they showed. The same goes for your technicians, who were incredibly helpful, competent, and professional. I hope to collaborate again in future when we hold similar events.

I will keep your contact details close by.
(Beatrice C. – Event Coordinator)
And our heartfelt thanks go out to our interpreters and technicians. Without them, the event wouldn't have been such a success!
Don't miss the official video of this roaringly successful celebration of motorbikes. Click here
Are you organising a multilingual event? Get in touch with us today and find out how we can help make it a success.